Choose your holiday, also means thinking about how to best organize the move. Here are our tips on how to get and how to move to San Vito Lo Capo

How to get to San Vito Lo Capo
By car: Take the motorway Palermo-Trapani, exit Castellammare del Golfo, continue along the SS187 road in to direction San Vito Lo Capo.
By plane: Airport Falcone-Borsellino of Palermo, take the motorway Palermo-Trapani, exit Castellammare del Golfo, continue along the SS187 road in to direction San Vito Lo Capo. Distance from airport 100 km.
Birgi airport of Trapani, take the direction Trapani and proceed to San Vito Lo Capo. Distance from airport approximately 90-100 km.
By Train: Nearest railway station: Trapani, continue in to direction San Vito lo Capo approximately 40 km.
By Ferry: Ferries from Genoa, Rome, Civitavecchia, Naples to Palermo, then on the motorway Palermo-Trapani, exit Castellammare del Golfo, continue along the SS187 road towards San Vito Lo Capo.
By bus:
- connection by bus Palermo - San Vito Lo Capo
- connection by bus Trapani - San Vito Lo Capo

Rental bikes and cars in San Vito Lo Capo: www.promosud.eu

Shuttle tranferts and excursions San Vito Lo Capo: www.sanvitotransfert.it
Where to park in San Vito Lo Capo: See attached map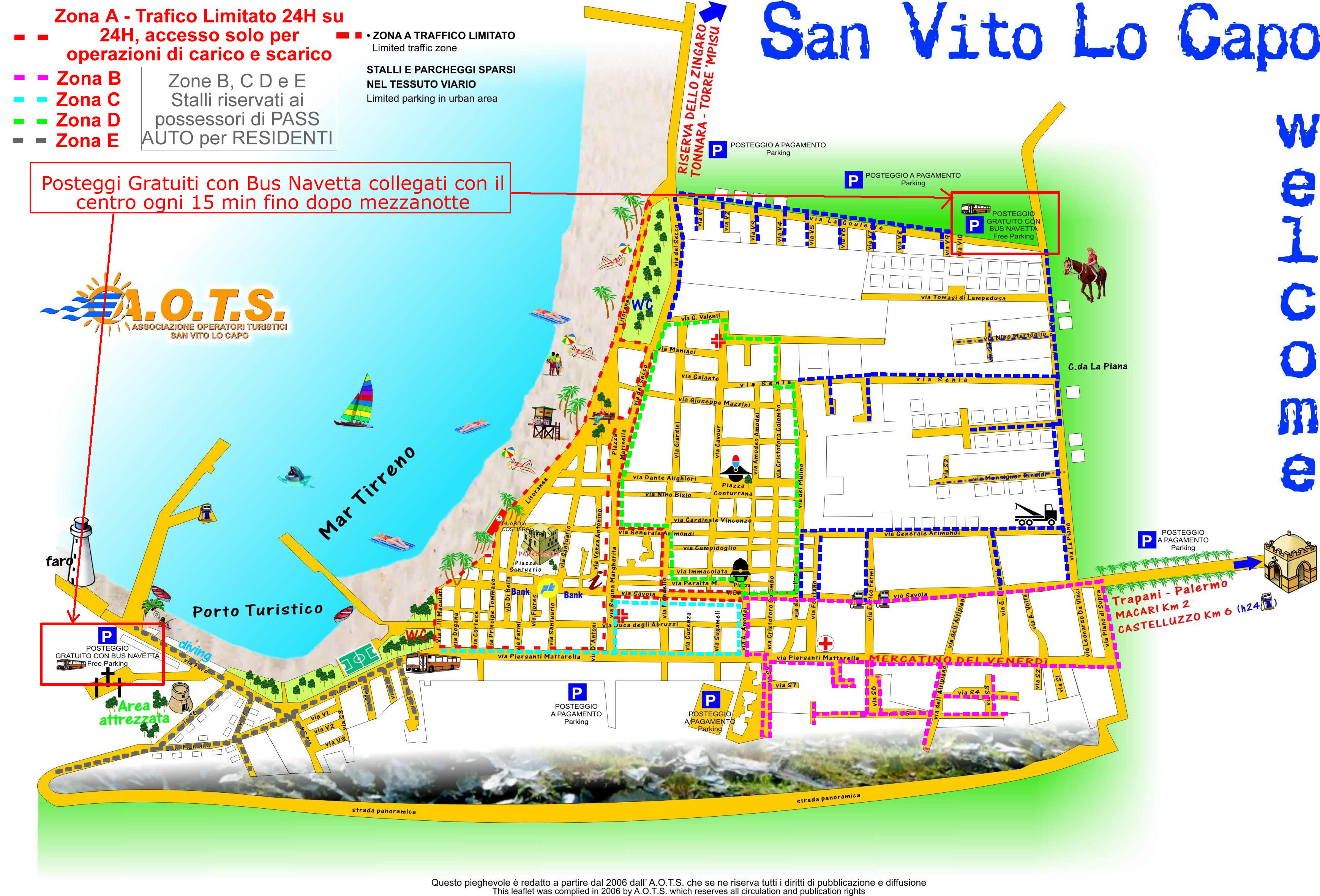 During the summer, from May to October, the urban center of San Vito Lo Capo is subject to traffic restrictions and parking.
Area A, is a limited traffic zone 24h on 24h (with restricted access and parking) and extended after the 19.00 to 07.00.
Zones B, C, D and E are free of restrictions of traffic (subject to any subsequent reports), and have stalls reserved for holders of yellow car pass for residents.
Here's how tourists can park:
- White stripes, scattered areas of the country in low number, are free for 1 hour
- Blue stripes, scattered areas of the country in numbers sufficient enough, is a fee (1 € / hour - Tariff of 2009)
- Nr. 2 free parking spaces available (not supervised, open 24h on 24h) connected to the center of the country with shuttle bus (every 15 minutes until after midnight)
- Private parking (supervised or not), price of 2009 between 5 and 7 € per day.
- Never park on yellow lines if you do not have to pass car for that area. Risk removal car!

For motorcyclists there is good news: the town hall reserved for their free white stalls , any time, scattered on the territory of Cape San Vito.

For lovers of cycling, San Vito Lo Capo is full of bike rental and mountain biking. The average cost of renting a bike is 6 € per day, while subscription for a week would cost about € 40-50. The only restriction is to use the bicycle in the city center after 17.00 pm. It is recommended to secure the bike parked. As you know, even the thieves goes on holiday ...
Info: sanvitocasa@tiscali.it Cell: +39 320 9214354